As a designer of embroidery art I deeply care that embroidery techniques and craftsmanship will be preserved for the future. Since I have embroidered from childhood and professionally already for more than fifteen years, I only noticed that time is a limiting factor in this craft.

Embroideries made by hand, like handwriting, always reveal the soul of the maker. For me it is a deep love for fine traditional embroidery techniques, taught by my mother at a very young age. Over the last couple of years, I become increasingly interested and skilled in other techniques as well, such as Japanese embroidery, Point de Marseille, lace embroidery and bobbin lace.

Embroideries made by hand I combine nowadays together with machine embroideries. To give the machine embroidery an elevated image, I interact with the machine during its process.

I like to think of the machine as an extra set of my own hands, by physically interacting with the machine I have found a unique approach; far faster and I can also work on a much larger scale.

By then adding embroidery by hand to this type of machine embroidery I even add more of my own personality to the design. Furthermore this combination within the work ensures the necessity of preserving the old hand techniques as well as the introduction of innovation and new expressions in embroidery.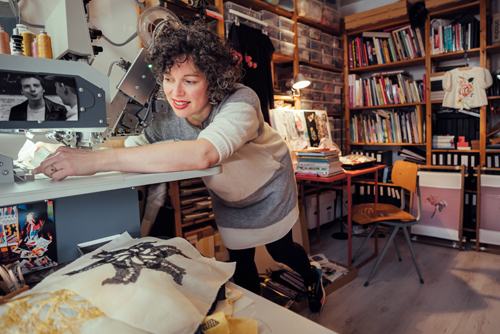 | | |
| --- | --- |
| 2001-2002 | MA-Fashion Institute, Arnhem, NL |
| 1996-2000 | BA-ArtEZ Academy of the Arts, Arnhem, NL |
| 1992-1996 | MTS for Fashion and Apparel, Amsterdam, NL |
Exhibitions
| | |
| --- | --- |
| | |
| 2021 | IJ Kunst Collectief, Nieuw Dakota, Amsterdam, NL |
| 2020 | SalonCraft in de Pijp, Amsterdam, NL |
| 2017 | SalonCraft, Atelier Tempel, Amsterdam, NL |
| 2017 | Arnhem Coming Soon, Arnhem, NL |
| 2017 | Baden Baden Interior, Amsterdam, NL |
| 2017 | IJ Kunst Collectief, New Dakota, Amsterdam, NL |
| 2016 | Arnhem Coming Soon, Arnhem, NL |
| 2016 | The Summershow, Nieuw Dakota,NL |
| 2016 | IJ Kunst Collectief, Nieuw Dakota, Amsterdam, NL |
| 2015 | Museum Bussemakerhuis, Borne, NL |
| 2014 | Salon/dantel, The Adahan Hotel, Istanbul, TR |
| 2013 | Meesterlijk, Westergasfabriek, Amsterdam, NL |
| 2013 | Textielleeft, De Eikenhof, Meppel, NL |
| 2013 | Salon/kant, Museum Ons Lieve Heer op Solder, Amsterdam, NL |
| 2013 | Salone del Mobile, Milan, IT |
| 2012 | Wintersalon, Museum Geelvinck Hinlopen Huis, Amsterdam, NL |
| 2011 | Salon/2, Museum Geelvinck Hinlopen Huis, Amsterdam, NL |
| 2011 | Shanghai Gesture, Museum Willet-Holthuysen, Amsterdam, NL |
| 2011 | Duologue, Mode Biënnale, Arnhem, NL |
| 2011 | Wintersalon, Huize Frankendael, Amsterdam, NL |
| 2010 | Dutch Culture Center Shanghai, World Expo, CN |
| 2007 | Dutch Fantasy, Institute Neérlandais, Paris, FR |
| 2007 | Dutch Fantasy, Salon du Prêt Porter, Paris, FR |
| 2006 | Post CS BG, Amsterdam, NL |
| 2005 | Maria Luisa Carte Blanche, Paris, FR |
| 2005 | Dutch Touch, Diana Von Furstenberg Studio, New York, USA |
| 2005 | Dutch Touch, BETC, Passage du Désir, Paris, FR |
Press
2020
Mirror Mirror, fashion magazine, NL, article
2020
Residence, interior magazine, NL, article
2020
TxP, textile magazine, NL, interview
2020
Genoeg, lifestyle magazine, NL, interview
2017
ELLE, fashion magazine, NL, article
2017
TxP (Textiel Plus), textiel magazine, NL, interview
2016
Dutch Design Daily, digital platform, NL, interview
2014
Harper's Bazaar, fashion magazine, NL, interview
Kunst Kalender Amsterdam, NL
2013
IJopener, magazine, NL, interview
Libelle, magazine, NL, article
2012
Eigen Huis & Interieur, interior magazine, NL, interview
Textielleeft, catalog, NL, article
Glamour, fashion magazine, NL
2006
Fashioning Fabrics, catalog, UK, interview
2003
Vogue Paris, fashion magazine, FR
Trax, music magazine (Björk), FR
2002
VIEW, fashion magazine, FR
L'Officiel, fashion magazine, FR, article
Blvd, fashion magazine, NL
Elegance, fashion magazine, NL
Strictly, fashion magazine, NL
PS Parool, magazine, NL, article
2000
Volkskrant, magazine, NL, interview
AD, magazine, NL, article
I-D, magazine, UK, interview
Items, art magazine, NLT, interview
De Gelderlander, newspaper, NL, interview
Vrij Nederland, magazine, article
Prizes
2000
Roos Gesink Award, Arnhem, NL


first prize for most talented graduate student
Assignments
2015
Private collection, Utrecht, NL


concept, design and production of tapestry, 120 x 160 cm

2012
Hotel Modez, Arnhem, NL


concept, design and production – embroidery hotelroom nr. 8 – commissioned by Piet Paris

2002
Björk, singer/ songwriter, New York, USA


couture dress bought for publicity/ photography and concert tour 2003
Grants
| | |
| --- | --- |
| 2021 | Stimuleringsfonds voor de Creative Industrie, Amsterdam, NL |
| 2020 | Stimuleringsfonds voor de Creative Industrie, Amsterdam, NL |
| 2016 | Stimuleringsfonds voor de Creative Industrie, Amsterdam, NL |
| 2009 | Stipendium Fonds Life, Fonds BKVB, Amsterdam, NL |
| 2004 | Start Stipendium, Fonds BKVB, Amsterdam, NL |
| 2002 | Start Stipendium, Fonds BKVB, Amsterdam, NL |
Over the years I worked for
Alexander van Slobbe, Amsterdam, NL
BBC, London, UK
Bert Nuhaan Theaterkostuums, Amsterdam, NL
Bugaboo, Amsterdam, NL
Claudia Sträter, Amsterdam, NL
Gerrit Rietveld Academy, Amsterdam, NL
Jottum, Baarn, NL
Koninklijke Ahrend, Amsterdam, NL
Larus Miani, Milan, IT
Nationale Opera & Ballet, Amsterdam, NL
Ronald van der Kemp, Amsterdam, IT/NL
Truike Verdegaal, Amsterdam, NL
Turnover, Amsterdam, NL
Viktor & Rolf, Amsterdam, NL
Credits
Paul Berbée (concept & design website)
Theo van Kampen (webconstruction)
Eddo Hartmann (photography)
Satijn Panyigay (photography scarfs, tapestry, portrait)
Jan Willem Kaldenbach (photography Modez Hotel)
De Fotomeisjes (photography Bugaboo)
ALL WORKS © 2021 Martine van 't Hul